Oviedo, the capital of Spain's lush and mountainous Kingdom of Asturias, played host to us for three months — from August to the end of October, 2010. This was the first stop of our For 91 Days project, and we picked it for a mix of practical and personal reasons. We were already living in Spain, so the move wasn't difficult, and we knew Spanish. But mainly, we chose Asturias based on the enthusiastic recommendations of our friends — this wild, beautiful land is largely unvisited by foreigners, and there was plenty to discover.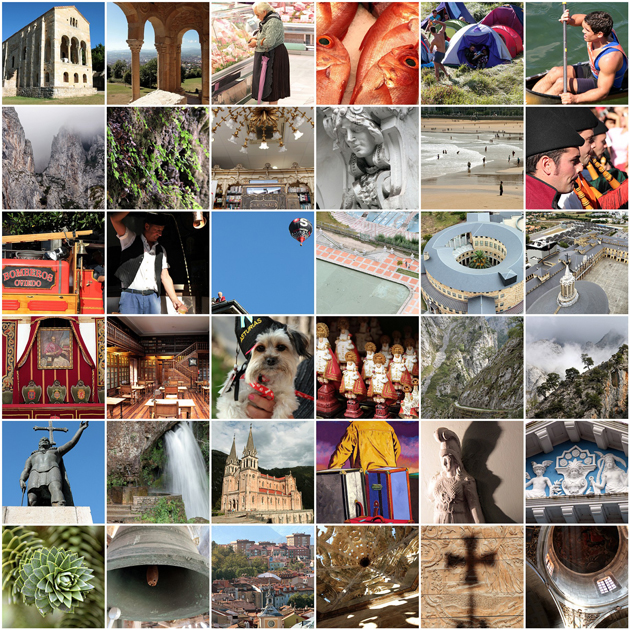 What follows below are some of the highlights of our three-month stay… you can also check out our comprehensive index or explore our blog by starting at the very beginning. We're sure you'll agree that we chose an incredible place to begin our journey…
Buildings and Monuments
Oviedo is a monumental and wonderfully clean, frustratingly slow city… that still knows how to party. With a history stretching back a millennium, there are churches and buildings galore. The Cathedral sits in the heart of the city and impresses as much with its sheer age, as its beauty. Inside, you can find the Cámara Santa (Holy Chamber) which contains treasures such as la Cruz de Victoria, and which was bombed by atheist Republicans during the devastating Miner's Strike. The University remains one of the most respected in Spain, and offers a wonderful tour. And for fans of architecture, Oviedo lays claim to some of the best Preromanesque structures in all Europe, particularly the Santa María del Naranco and the San Miguel de Lillo, up on the Naranco hill.
Eating and Drinking
No image is as emblematic of Asturias as a person standing upright, with his arm raised high overhead, pouring out cider. Called escanciando, we had plenty of opportunity to practice this tricky craft, with lessons learned at a nearby sidrería. We also ate more than our share of fabada, the rich bean dish which is at least partly to blame for the portly nature of many Asturians. Equally culpable is the mammoth cachopo — a dish we ordered whenever possible. And when people in Oviedo get a sweet tooth, they often turn to the sickeningly rich carbayón. We also checked out an incredible family-owned farm outside the city, where goat cheese and milk is elaborated.
Parks & Statues
For some reason, in the 1990s Oviedo decided to turn itself into an open-air museum, by erecting statues by various artists all over the city. Nowadays, you can hardly go a block without encountering an interesting statue. Our favorites included Eduardo Úrculo's tribute to film noir, and Botero's massive homage to maternity. Adding to the sense of recreation are a number of tranquil parks, such as the San Francisco and the Campillín. Just outside the city, the Senda del Oso is a track that takes you past gorgeous areas and even a couple brown bears. And just a bit further afield, no trip to Asturias is complete without a visit to the amazing Parque Natural de Somiedo.
Exploring Asturias
Oviedo was a great base, but in order to truly experience the beauty of the land, we were forced to frequently get out of the city. We went to gorgeous beaches with names both evocative and goofy. Hiking was a big part of our time in Asturias as well, and we trekked along the coast and into the mountains. We also loved the other towns of Asturias — Ribadesella, Cudillero, Gijón and Llanes were among our favorites. And we were mystified by the Catholic mecca of Covadonga, the legendary last bastion of Christianity against the Moors.
It turns out, you can fit a lot of adventure into three months! Whether you're visiting the region, or just curious about it, we hope you enjoy our articles and pictures about this incredible piece of Spain. Please leave comments, and don't forget to sign up to our RSS feed, and follow us on Facebook and Twitter!
June 9, 2011 at 1:52 am
Comments (0)