Al Fondo Hay Sitio – Music Bar
On a rainy Saturday night, I went to a bar which a couple friends had recommended. Al Fondo Hay Sitio… There's Room at the Back. It was a fun evening out. The bar had a great atmosphere with live rock music, a good selection of beers and an abundance of tapas, which the waiter insisted I try. "Picante, ¡SÍ!" Bowls of fruit were on the tables, and a guest book was at the door; funny little touches that give the bar a unique feel.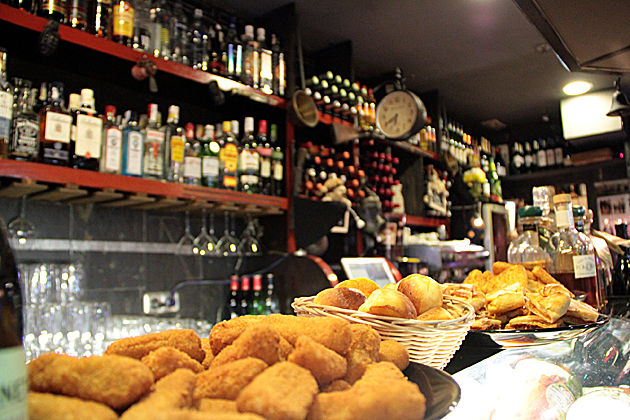 Al Fondo Hay Sitio is found at the bottom of Calle Oscura, Oviedo's most lively party street. I had taken Jürgen's younger brother with me. He's two meters tall, about 6'7″, and his height caused a minor sensation at the bar. Within minutes we were talking and trading rounds with a big group, and the bartender even invited us to a beer before we left, at which point I hazily remember declaring "Favorite Bar EVER".
And the music is great, too. I had been walking by one early evening, and heard Arcade Fire's new album blasting from the speakers, the same day it had been released. If that's your style of music, then this is a bar you'll feel right at home in.
I don't know if there's a connection, but Al Fondo Hay Sitio is also the name of a massively popular Peruvian telenovela.