Fernando Valdés Salas – Inquisitor, Educator, Fanatic
In the middle of the University of Oviedo's courtyard is a statue of its founder, Fernando Valdés Salas. The statue's expression is fatherly; benevolent but stern. The sense conveyed is that Valdés was a serious educator dedicated to learning, and a kindly, wise man. But a little research reveals that a loathsome monster reigns in the University's courtyard — rarely does history provide us such exquisitely evil characters as the Archbishop Fernando de Valdés.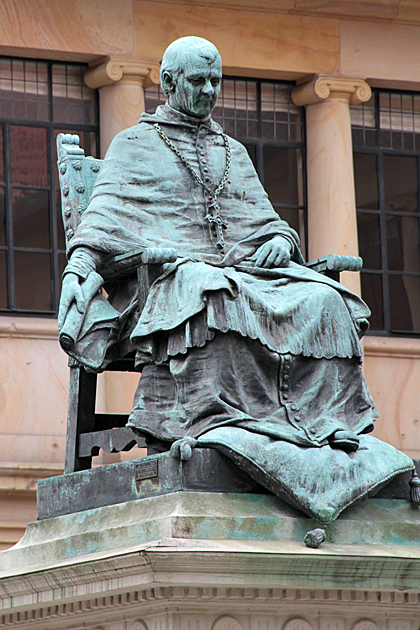 Valdés was a heavyweight in the 16th century Catholic hierarchy; a politically-motivated self-promoter who rose to power via the Inquisition. He was named bishop of Oviedo in 1532 and eventually established himself as the Grand Inquisitor, gaining infamy as a particularly fanatical judge with a special hatred for Lutherans. He hated them so much, that he successfully petitioned the pope for permission to burn groups alive on giant bonfires. All in the name of the Church, of course, because that kind of thing is what Jesus loves most.
Massive piles of burning, living flesh; yes, Salas was an inventive thinker! But he did found a University, so he can't have been all bad, right? On the other hand, he compiled history's most draconian List of Prohibited Books. His Index Librorum Prohibitorum even included works from venerated Catholic scholars like Saint Francis Borja.
Salas was terrifying. Knowing his history throws a different light on the handsome statue in the University courtyard.
More Fernando Valdés Salas Photos: