Senda del Oso – Path of the Bear
The villages of Tuñón and Entrago, found south of Oviedo, are connected by the Senda del Oso, a popular trail running through the valley carved by the Trubia River. Formerly a track for mining trains, the trail has been converted for recreational use and has a lot to recommend it: rapids, tunnels, cliffs, fountains, villages and, yes, bears.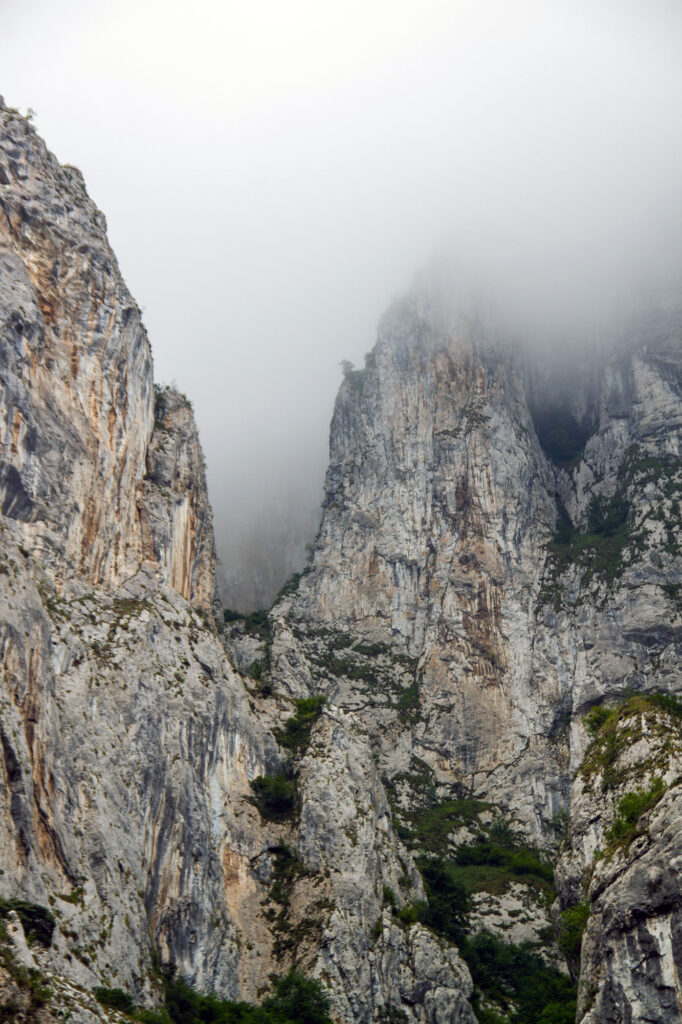 We did the 22-kilometer walk on a Sunday morning, when the mist was still covering the tops of the mountains, and were amazed by the scenery. When you think "Spain", mountainous and verdant Lord-of-the-Rings-landscape isn't usually what pops into your mind. Although very long, the trail was easy — basically flat and endlessly entertaining.
Paca and Tola – Orphaned Sisters on the Senda del Oso
Just south of Proaza, whose most impressive feature is a massive hydroelectric station, you come upon the enclosure of Paca and Tola — two rescued brown bears, orphaned as babies when a hunter slew their mother. They've been living in there since 1996, and are now twenty-one years old. We weren't able to get too close but, even from afar, the bears were cute — playful and almost human-like in their actions. A male bear, Furaco, has been brought in for mating purposes, but the sisters apparently haven't shown much interest in him. Poor guy.
By the time we reached Entrago, we were exhausted. We had time for lunch and a long siesta on a park bench, before the bus back to Oviedo. This was our first experience with the bus system in Asturias — it's pretty good! Just €2,05 to Tuñón, and €3,75 on the way back. The buses are clean and comfortable, although the curvy mountains roads caused the kid next to me to vomit all over himself. Thanks for keeping it off of me, chaval!