Restaurante La Más Barata
On Calle Cimadeville, just past the open arch of the Ayuntamiento building, Restaurante La Más Barata is one of Oviedo's most famous and popular restaurants.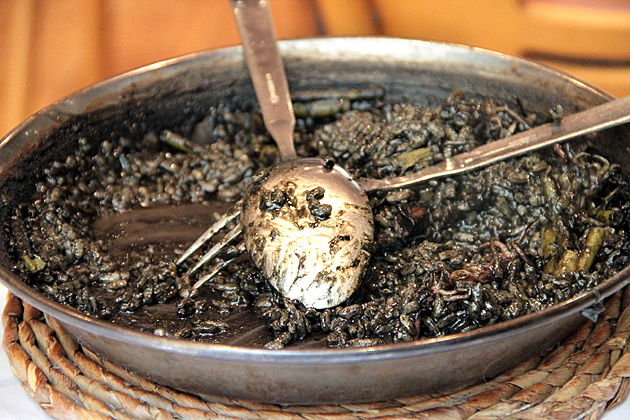 We were excited to check it out, mostly because its name translates as "The Cheapest", and we're eternally on a budget. But the name turned out to be a bit of a misnomer; La Más Barata wasn't anywhere close to the most barata meal we've had in Oviedo. But it's not crazy expensive, either, and we had a good experience.
The restaurant is most known for its rice dishes. I had a delicious serving of black rice with squid tips cooked in ink, but Juergen's plate, tenderloin with french fries, wasn't very interesting. So if you go, you should probably stick with the house specialty: rice. The paella we saw on other tables looked incredible.
La Más Barata also has a popular bar/lounge where you can snack on tapas and tostas. Here, the prices really are cheap. The tostas are huge and packed with great toppings, and the atmosphere is perfect, too; crowded and loud, but overly so.
More photos of Restaurante La Más Barata in Oviedo: